About Me
Hello, I am Sherrie Winton. Welcome to this learning wiki! I am a Director of an integrated studies program in a small college in Maine. I have worked in the Human Service (HS) field for nearly 20 years. At least a dozen of these years have included working in higher education and designing programs to support the workforce serving underrepresented populations. I live with my husband, son, two cats, and two dogs in Maine.
I added a picture of my son, wearing a graduate's hat, and me in our front yard. This picture was taken on the day that I graduated from the University of Maine. My son is only eight years old, but he learned how to create a wiki before I did. He is not an expert in technology, but he's willing to give anything a try. With patience and persistence, he is often successful at whatever he does. I share this picture because my son reminds me everyday of how important it is to be a learner. In his world, there is something new to learn everyday, and one does not have to be an expert to try new things and share knowledge.
Would you like to introduce yourself? Do you have a picture that represents what learning means to you? Please feel free to share.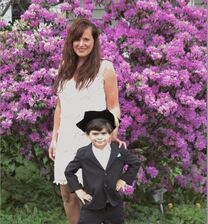 Introduction/Audience: Technology Guide for HS TrainersEdit
This wiki is intended for trainers of new Human Service (HS) professionals. The forum will contain a technology guide for digital tools and online instruction. A wiki is chosen due to the fact that it represents the concept of sharing and other similar features, such as collaboration, empowerment, advocacy, and resource sharing, as they are symbolic of the HS field.
The technology guide will include resources related to a number of digital sharing tools, such as voice thread, gaming, and wikis.
Latest activity
Edit
Photos and videos are a great way to add visuals to your wiki. Find videos about your topic by exploring Fandom's Video Library.